If you've run out of ideas for your trips, the solution for the next long weekend might be..in Africa! From the main cities of Andalusia you can in fact join organized excursions to the North of Morocco, which is only one hour by ferry away from Spain, crossing the Strait of Gibraltar.
If you have already been in some organized excursion with an agency for erasmus students, they can probably also offer you a trip to this destination. The departure is usually from the main cities of Andalusia, like Seville, Malaga and Cadiz, but there are organized trips also from others.
There is more than one tour available in the North of Morocco, and the nicest ones usually involve the Blue Cities, the Ocean and the Desert, but every agency can personalize the trip. Let's take a look to the destinations and the experiences you'd be able to enjoy choosing Morocco for your next travel!
Tangier
Located in a strategical position in front of Europe, where Mediterranean Sea and Atlantic Ocean meet, Tangier and its important port are today developing really fast, so that the city deserves at least a stop by. With its history, culture, hidden beaches and a modern commercial life, Tangier is today one of the most important cities of the country and offers itself to travelers as a fascinating mix among African, Spanish, Portuguese and French culture, since it's been under different controls through the last centuries.
For years Tangier represented the Europeans' getaway to Africa, and it's always been a semi-independent international city, full of cultures and influences so that its soul is more open. Palaces, museums and the beautiful Medina are among the must see of the city, but beach spots to enjoy the ocean don't miss as well: just outside the city you can also enjoy a camel ride in front of the ocean..when else in life is this gonna happen?!
Chefchaouen, the Blue City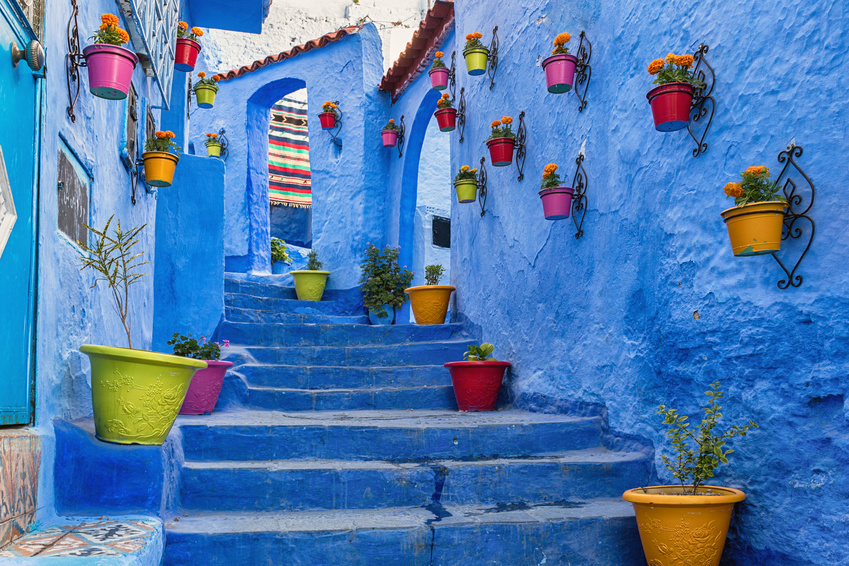 The most fascinating destination in the North of Morocco is for sure the so called Blue City, Chefchaouen. Hidden in Rif's mountains, this little town is an escape to a different world for the visitors, and you can't miss it if you're touring this part of the country!
Walking in its little streets you won't find other colors than blue and white, and you'll feel like walking in a magic place. Even if it's become a little bit too touristic in the last years, Chefchaouen is one of the destinations you don't have to miss. In its market you can find present and memories from your trip, and remember that negotiating is
It you're more adventurous and need to stay active you can easily go on some hillside hikes or discovering walks in the surrounding areas.
Asilah & Tetouan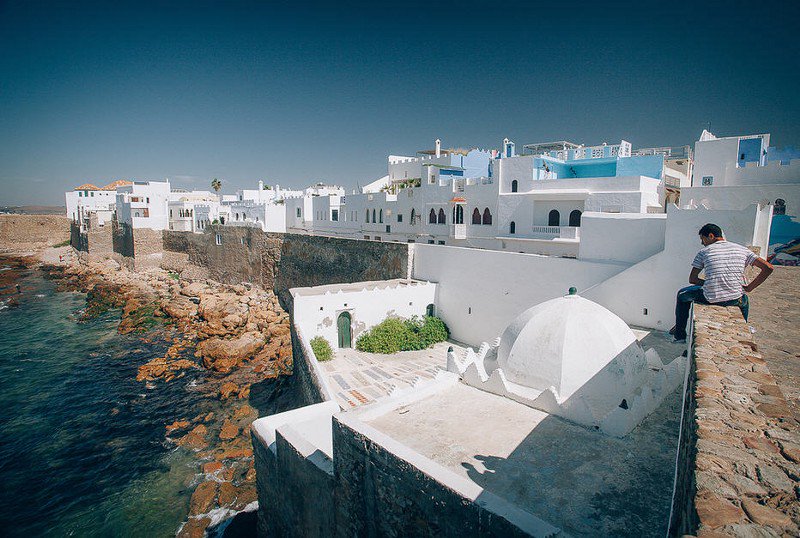 In the Northern part of Morocco other two nice cities worthing a visit are Asilah and Tetouan.
Asilah is a fortified town that was part of Spanish territory for a long time, and this is way today wine and paella are served in its restaurants. The pretty Medina, the old center and the amazing view on the sea are the main attractions that introduce you to Morocco. Walking in the little white streets surrounded by colorful paintings it's the best welcoming in this beautiful country.
The city of Tetouan is really different than the first one, being less touristic and less used to foreign visitors: for this reason, here you can still find the authenticity of Morocco, hidden among the local market or the old pharmacies. The ancient Medina is part of UNESCO World Heritage List, and it's one of the most beautiful of the whole country.
Moroccan experiences
Discovering Morocco is more than just sightseeing beautiful places, and this particular country needs to be lived and experienced by and inside point of view. These organized tours for students and young people offer unique cultural experiences that allow you to know something more about Morocco's soul in few days. Trying Moroccan cuisine it's something you definitely don't wanna miss: from the couscous to the spices, passing through chicken and mint tea, vegetables and bread, the healthy food you could taste is this country is for sure unique and tasteful. In the typical restaurants, beside the food, you can easily see some local artistic exhibitions, such as dances or music, but also amazing men playing with fire. The other way to take a look deep inside Morocco is walking through the local markets, where people make their everyday grocery shopping and where you can find everything, from typical clothes, natural medicines or food.
If you don't want to join an organized tour or you'd prefer to see the South of Morocco instead of the North, you should take a look to the flights from Andalusia to Marrakech, cause they're often pretty cheap and getting there take much less time than flying to Morocco from your own country.
Take out the best of your staying in Andalusia..explore as much as possible!